April 9, 2022
Dear Shady Side Academy Community,
I am thrilled to announce The Memorial Hall Library project, a conversion of the Senior School's Memorial Hall from its origins as a chapel and theater space to a contemporary library that serves as a hub for academic research, collaborative learning, and small community events.
History of Memorial Hall
The dream of former SSA Headmaster Erdman Harris, Memorial Hall opened at the Senior School in 1954 "to honor the Shady Side men who have served their country and in memory of those who gave their lives." For the second half of the 20th century, Memorial Hall represented the very heart of the campus, serving as the Academy's chapel, assembly space and performing arts hall.
Since the opening of the Hillman Center for Performing Arts in 2004, now the Senior School's primary gathering and performing arts space, Memorial Hall has gone largely underutilized, dedicated to little more than study halls or the occasional faculty or parent meeting. While many of our alumni claim a deep sense of connection to Memorial Hall, current students spend very little time there by comparison.
This much is clear — it is time to bring Memorial Hall back to life.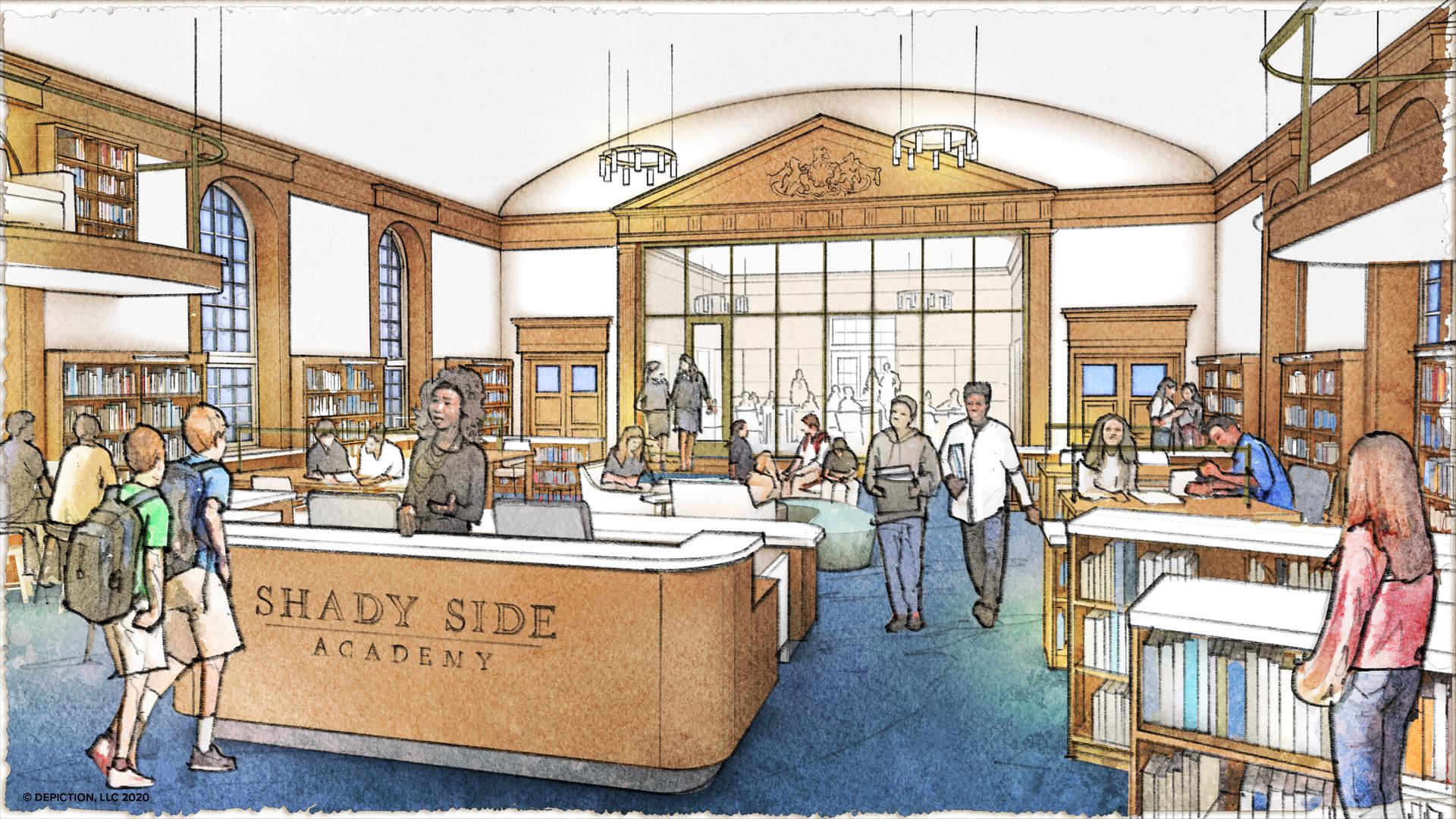 Library Design
As the world becomes increasingly digital and classroom learning more collaborative, a library is no longer merely a storage space for books and a place for quiet study. Instead it demands a design that supports connections between people, technologies, and ideas, as well as shared spaces for digital learning and research, team projects, socialization, and study.
The new 5,500 square-foot Memorial Hall Library will feature enhanced digital platforms, a host of collaborative learning spaces, a large, multi-use classroom and meeting space, and a small presentation stage in support of events and gatherings. A spacious mezzanine will provide further opportunity for students to come together and effectively engage with both course content and one another.
Aesthetically, the renovation of Memorial Hall will accentuate the building's original architectural features, including the memorial vestibule, the large radius windows, and the proscenium arch that once framed the stage used for plays and performances. The space will be more open and flexible than ever before and replete with natural light.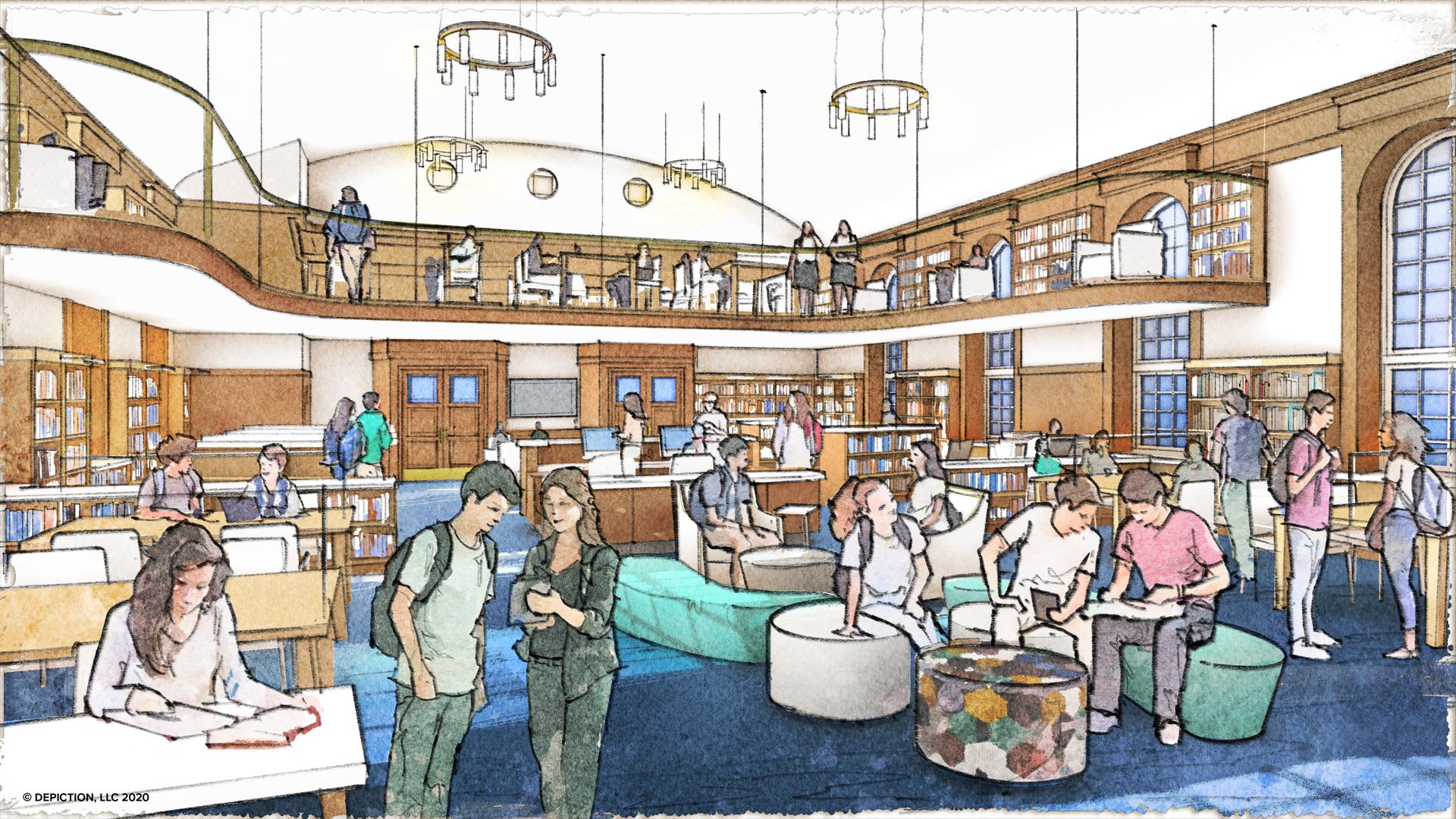 Funding Opportunities & Timeline
Thanks to a generous lead gift from Dr. Bartley Griffith '66, as well as donations from other alumni and friends, nearly $1.4 million has been raised to date in support of the $2.2 million library project. We are excited to gain further philanthropic support from the Shady Side community in the weeks and months ahead.
If you are interested in making a major gift to the project, please contact Jamie Scott '98 in the Alumni & Development Office at jscott@shadysideacademy.org or 412-968-3032. You can also make a gift by visiting SSA's online giving form.
The initial phase of construction is tentatively scheduled to begin in summer 2022, with the expectation that the project will be complete in advance of the 2023-2024 school year.
The Memorial Hall Library will provide all of our Bulldogs a great place to learn and connect in the years ahead. Thanks to all of the SSA community members who have stepped forward to help us get this project underway.
Glory to Shady Side!
Sincerely,
Dr. Alison Saras
Director of Alumni & Development