Homecoming 2021 Registration Is Open
Register today for SSA's first-ever double reunion weekend on October 8-10, 2021. View the schedule of events by visiting shadysideacademy.org/homecoming. Register by Wednesday, Sept. 1, to receive a new SSA magnet at the Welcome Tent! Contact Lisa Page with questions or concerns, or if you are interested in helping to plan your class reunion.
Bulldog Cup Giving Challenge
In honor of your reunion, consider making a gift to the Blue & Gold Fund and helping your class win the inaugural Bulldog Cup Giving Challenge. The reunion class with the highest participation gets their class year on the cup, as well as bragging rights for the year. Make your reunion gift today.
Beyond the Quad E-Newsletter Survey
We want to hear from you! So that we can improve the monthly e-newsletter and deliver the information you want, please take a few minutes to complete the online survey. Take the survey now. Contact Jamie Scott '98 with any questions.
Alumni Spotlight: Aaliyah Aga '20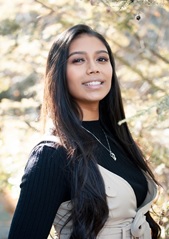 During the summer of 2021, Aaliyah Aga '20 worked as a volunteer in the SSA Alumni & Development office, creating an electronic filing system for historical foundation records which will aid in the overall impact that Shady Side has on working with foundations for funding. Her work will be beneficial to the school for many years to come. She also interned at the University of Pittsburgh Affective Neuroscience and Developmental Psychopathology Lab. The lab focuses on the development of psychopathology during adolescence. Read more.
Call for Nominations: Paul R. Pigman '52 Prize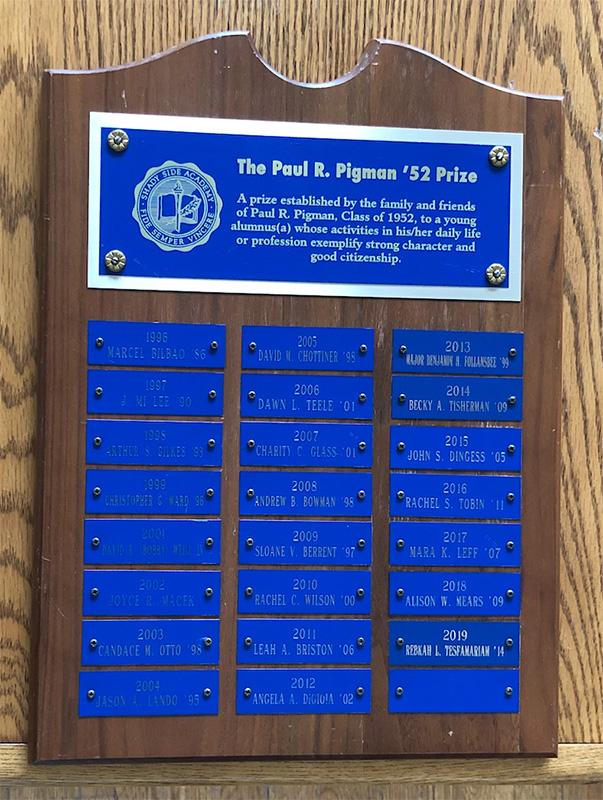 The Paul R. Pigman '52 Prize was established by the family and friends of Paul R. Pigman '52 in 1996 and is given in his memory to a young alumnus/a who graduated in the last 10 years and whose activities in his or her daily life or profession exemplify strong character and good citizenship. Submit your nomination to Lisa Page at lpage@shadysideacademy.org by Wednesday, Sept. 1.

On Saturday, July 31, SSA alumni and friends participated in the Fourth Annual Killian 5K at the North Park Boathouse. The event raised money for the Killian Cavanaugh Memorial Scholarship Fund, which annually honors a Shady Side Academy student/athlete who best exemplifies Killian's incredible qualities and spirit. Thank you to everyone who participated and congratulations to Melissa Riggins '21, who won the overall female competition! View the photo gallery.
© 2021 Shady Side Academy, 423 Fox Chapel Road, Pittsburgh, PA 15238