Homecoming 2021 Registration Opens August 2
Registration for SSA's first-ever double reunion weekend on October 8-10, 2021 will open Monday, August 2. View the schedule of events by visiting shadysideacademy.org/homecoming. Contact Lisa Page with questions or concerns, or if you are interested in helping to plan your class reunion.
Beyond the Quad E-Newsletter Survey
We want to hear from you! So that we can improve the monthly e-newsletter and deliver the information you want, please take a few minutes to complete the online survey. Take the survey now. Contact Jamie Scott '98 with any questions.
Call for Nominations: Paul R. Pigman '52 Prize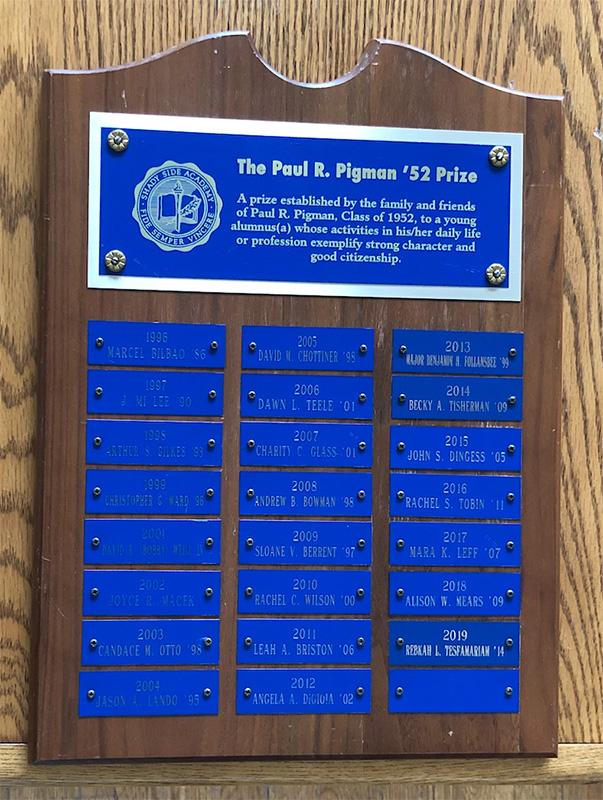 The Paul R. Pigman '52 Prize was established by the family and friends of Paul R. Pigman '52 in 1996 and is given in his memory to a young alumnus/a who graduated in the last 10 years and whose activities in his or her daily life or profession exemplify strong character and good citizenship. Submit your nomination to Lisa Page at lpage@shadysideacademy.org by Wednesday, Sept. 1.
Thank You For Supporting The Blue & Gold Fund in 2020-2021
Through the generous support of more than 1,300 Shady Side alumni, parents, faculty, staff grandparents, corporations and foundations, we raised a record-breaking $2,158,699 for the Blue & Gold Fund in 2020-2021.

Shady Side Academy has announced the endowment of a new faculty chair in English. The Dr. Craig T. Kerins '63 Chair of English, made possible by a generous gift from Kristi Kerins in honor of her brother, will assure exceptional instruction in English through the ongoing recruitment and retention of superior English faculty.
Senior School English teacher Jeff Miller was named the inaugural Dr. Craig T. Kerins '63 Chair of English at the Faculty/Staff Closing Days Celebration on June 11, 2021. He will serve a five-year term beginning in 2021-2022. Miller has taught English at the Senior School since 1982 and also coaches tennis. Read more.

© 2021 Shady Side Academy, 423 Fox Chapel Road, Pittsburgh, PA 15238